Donate Now
By donating now to Sleep Tight Colorado you can ensure a homeless person gets a warm night's sleep.
A donation of $30 will buy 1 new sleeping bag. STC will gladly accept financial contributions of any size.
DONATE by Check
There is a 4 step process to ensure your donation is directed to Sleep Tight Colorado.
1.  Make out check to: Sleep Tight Colorado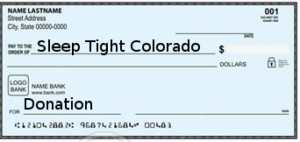 2  Address envelope
Sleep Tight Colorado
PO Box 40452
Denver, CO 80204
3. Complete the  Mail_in_Donation_Form.


4. Mail check and form
        Make a donation by mail and a receipt will be sent to you once processed.
Donate Online